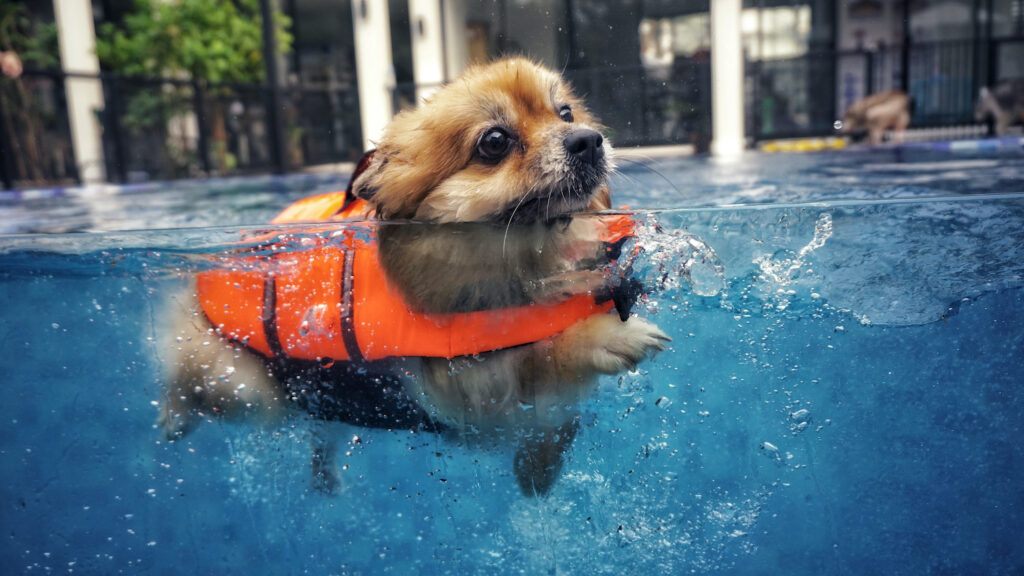 Swimming is an excellent form of exercise for your canine pal. It does wonders for overall health, providing an aerobic workout that will keep them feeling fit and healthy and can provide essential relief from the summer heat. It can be especially beneficial as therapy for dogs rehabilitating from an injury or surgery, having joint problems, being older or overweight. Plus, diving in with your dog can be a great way to foster the bond you two share.
In this article, we're going to dive into how swimming can offer huge benefits for your furry friend, from rehabilitation to general exercise.
According to Dr Arleigh Reynolds, a Veterinary Surgeon and Canine Physiologist, 1 minute of swimming is comparable to around 4 minutes of running for a dog.
Recovery time following surgery, sprain, or strain is reduced

Alleviates stress

Improves weight loss and management

Improved body condition & physical performance.

Increases cardiovascular fitness
Stronger, toned muscles protect dogs from injuries experienced during typical activity, such as running or chasing a ball, as well as more strenuous training. Swimming should be utilised in conjunction with other forms of land exercise in healthy dogs to ensure that the dogs' bones remain strong by maintaining good bone density.
As with any fitness programme, you can expect to begin slowly and gradually increase the amount of activity you do. Don't be surprised if your dog swims for only a few minutes or in brief spurts at first. As their fitness develops, they will be able to swim for longer periods of time with fewer rests.
In the heat of summer, dogs' muscles quickly "warm up," facilitating relaxation and blood flow – but in some cases, a heated pool can help. It also aids in eliminating muscle spasms and the expansion of the dogs' range of motion. Not to mention, if your dog isn't a huge fan of swimming, the warmer water will put them at ease, making swimming a lot more enjoyable. 
Swimming can play a significant role in the recovery and rehabilitation of dogs with medical issues that limit activity. In the event of any orthopaedic surgery, for example, it is important to build up the supporting muscle before the operation. On the other hand, walking and jogging are inappropriate types of exercise, but swimming allows for supported, non-concussive muscle building.
It can be challenging to provide adequate exercise on land to an overweight dog without overstressing bones and joints. Swimming is a type of assisted exercise that burns calories and increases metabolic rate. When combined with a healthy diet, Swimming can help obese dogs reach their ideal weight.
Whether your dog is in good health and you want them to have fun while exercising, or if he has physical health difficulties, swimming will help them increase range of motion, mobility, overall body condition, and elevate their spirits. It's a wonderful sensation to see a relaxed dog enjoying themselves in the water.