(pic: Abby the Labrador – loose stool warrior. )
You've just got to love a Labrador! Intelligent, warm, easy-going and well… just plain beautiful.
Their friendly nature and soulful eyes have seen them remain on the top of the list of Australia's favourite breeds for over five years now (source:http://ankc.org.au/). But what happens when your new Labrador comes home and just can't poo right?! It's not really an easy subject to broach but stools are a super important factor to observe when measuring overall health (yours and your dog's).
At this point, we'd like to introduce you to long-time customer Lyn and her doe-eyed Labrador 'Abby'.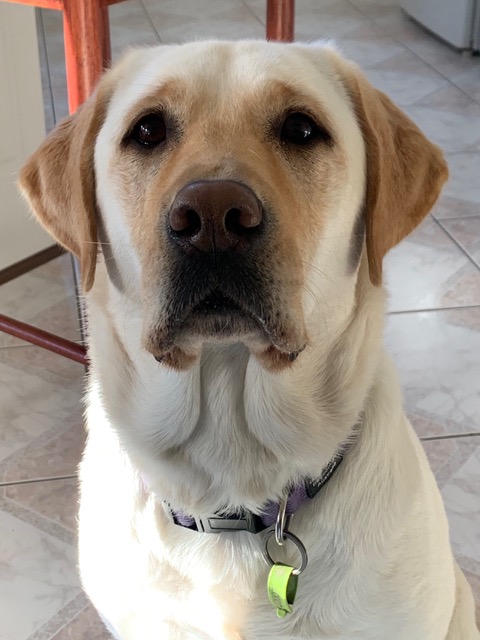 (pic: Meet Abby)
Since Abby was 7 months old Lyn was aware of issues with Abby's stools. A quick 'Google' brought her to Dig-In and the man behind the powder Frank. We caught up with Lyn recently to get the low down on her and Abby's experience with Dig-In and their more recent use of Dig-In Fresh.
Dig-In: Could you tell us a bit about Abby?
Lyn: Friendly, fun-loving, loves cuddles in your lap, slightly submissive with dogs she doesn't know so never gets herself into trouble, but plays hard and rough with her known doggy friends! Very well behaved and can be left on her own without getting into mischief, and is Oh, So beautiful!!
Dig-In: You've been using Dig-In for a while now can you tell us why started using Dig-In?
Lyn: She (Abby) always had a lot of issues with loose stools so I Googled for some help and found Dig-In. After I had been using it for about two weeks, Frank from Dig-In contacted me to find out how I was going. I had a back and forth with Frank over emails to discuss Abby's condition. Frank was super helpful and thorough. The emails and responses, spell out the situation perfectly.
[Lyn took the time to fill Frank in on all the details. In a nutshell, a few specific dietary requirements, a dose of anti-biotics, faecal testing, cordoned off garden beds, vet visits and a fair amount of head-scratching and frustration. Frank replied after sitting down with Dig-In veterinary support Dr Tivey and getting his input ]
.
Frank (email): Hi Lyn, I managed to get through to Dr Tivey. We have had several discussions regarding Abby. At the moment, he is working out to see if we should make a special version of Dig-In for Abby. I am waiting for his reply. I'll let you know as soon as I hear from him.
Frank followed this up by phone and advised me which sort of kibble to feed her on, as well as of course using Dig-In. We have had quite a bit of contact along the way, as Abby's grown and matured, but the advice given has been so valuable, well informed and helpful.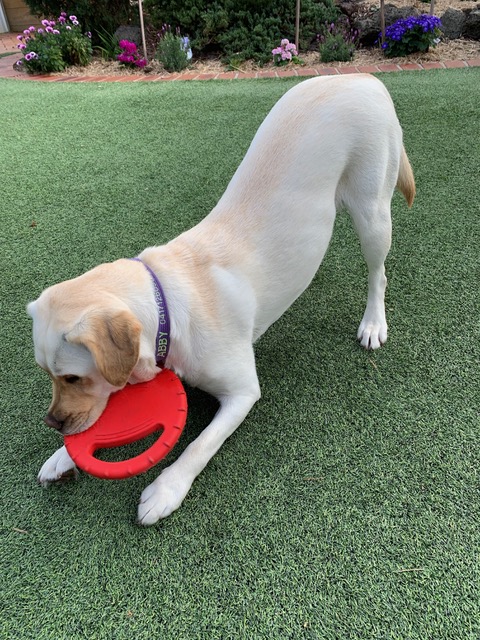 (pic: Abby's energy and playfulness is abundant)
Dig-In: That's great that Frank was so thorough. Did Abby improve after using Dig-In, have you noticed any other improvements?
Lyn: Abby's coat is soft and mostly, her stools are firm, although we will always have to be careful about what she eats because she is susceptible to 'the trots'! She is basically a happy healthy dog.
Dig-In: That's great to hear that Abby has improved since using Dig-In and now you have started using Dig-In Fresh. Could you tell us why?
Lyn: I always felt it was a bit boring giving the dog the same thing every day, so liked the idea of home-cooked and the variation it provided whilst giving a good nutritious meal. Because I had such trust in the company, if they said it was ideal for a dog, then I had no reason to dispute that! It was an easy choice to make :).
Dig-In: Have you always been a DIY Dog Food maker?
Lyn: No, it's new to me.
Dig-In: That must be a bit of a leap, how are you finding using Dig-In Fresh recipes and the whole process?
Lyn: The recipes provide a reasonable choice, but I'm still working through the process, trying to streamline it a bit more. I cook up a big batch so that it lasts a while, and mix it with kibble at about 1/3 Dig-In Fresh to 2/3 kibble ratio. I seem to manage to get the kitchen in an awful mess when I do the cook-up and it takes ages. If I didn't love my pooch so much, I probably wouldn't stick it out! Home cooking isn't for everyone, as most people want an easy fix, but for those who already do it, this is a fantastic product.
Dig-In: So now, that you've been using Dig-In Fresh for a little while now, have you got a favourite recipe?
Lyn: Not yet, I haven't tried them all. It looks like chicken still suits Abby's gut best. Frank, as always, is investigating these differences I've noted.
Dig-In: We get a lot of people who love their dogs taking a closer look at Dig-In as a solution to some of the problems they're facing with their pets, do you have any advice for anyone wondering if Dig-In Fresh is right for them?
Lyn: For me the most obvious outcome of feeding Dig-In Fresh is the reduced residue left in the back yard IE. less poo to pick up! The more I feed her of the fresh cooked food, the more noticeable this becomes. Frank tells me this is because there are a lot of fillers in commercially prepared dry dog food, which end up needing to be scooped up!
Some months ago, another dog owner told me about her's dog's issues with sloppy motions and that she had to be extremely careful what she fed the dog, so I told her about our journey, and eventually gave her a sample of Dig-In and a canine probiotic I had on hand. She tried this and just as we'd experienced, this made a huge difference in her little dog. She's now a confirmed user of Dig-In!
Dig-In: Ha! Thanks for the introduction and thank you for your time, Lyn. Please give Abby a belly rub from us.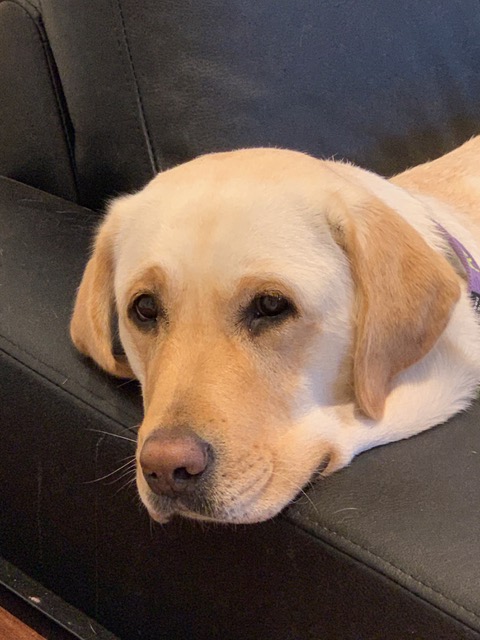 (pic: Abby, tuckered out waiting for the freshest dinner to set down)
Love your dog and want to see them healthy, happy and by your side? You can learn more about either of our fabulously healthful products HERE.